SIRIUS: FILTERING SYSTEMS
Types and characteristics of cooker hood filters
The Sirius range has numerous cooker hood models that can be installed in both extractor and filter versions, depending on requirements and the location of the kitchen because in some cases it may not be easy to insert a duct for the external extraction of cooking vapours. Both solutions, in order to fulfil their function of purifying the domestic air of cooking vapours and odours, require the presence of filters. There are two main types of cooker hood filters: activated charcoal filtersand grease filters.
HIGH PERFORMANCE
Synthetic carbon balls
WASHABLE FILTERS
Vegetable charcoal in flakes, bonded by polyurethane foam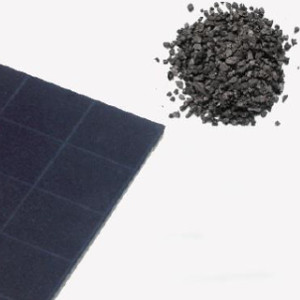 GRANULAR FILTER
Charcoal of a mineral nature thickened into small cylinders.
STANDARD CARBON FILTERS
They are placed inside the filtering cooker hoods: the force of the motor conveys the air inside the suction duct where it meets the resistance of these filters, and is then reintroduced into the domestic environment. Thanks to their porosity, they absorb substances contained in the cooking vapours of food that cause unpleasant odours.
HIGH EFFICIENCY CARBON FILTERS
High-efficiency carbon filters allow for greater filtering effectiveness. These filters consist of a polyurethane foam mould, activated carbon spheres and allow high air permeability compared to normal carbon grain filters and maximum odour absorption due to the highest quality activated carbon. The advantages of using a high-efficiency carbon filter instead of a typical charcoal filter are: higher filtration efficiency, lower losses during air filtration, lower noise and greater energy efficiency.
WASHABLE CARBON FILTERS
Unlike standard charcoal filters, they consist of flaked charcoal of a vegetable nature, bonded by means of polyurethane foam, which makes them washable.
ANTI-GREASE FILTERS
capture the fats produced during cooking of food. The powerful action of the motor conveys the cooking fumes into the hood duct, to expel them outside, in the case of suction hoods, and to return them purified to the domestic environment, in the case of filtering hoods. The action of the grease filter is fundamental because it captures most of the grease particles contained in cooking vapours, which would otherwise be deposited in the internal parts of the hood, damaging the appliance. These include 'mesh' filters and labyrinth filters.
"MESH" FILTERS
have a structure consisting of an overlap of 4 or 5 layers of pressed sheets that make the filter mesh very tight.
"MESH" filters
LABYRINTH FILTERS
are normally used as a filtering medium in semi-professional cooker hoods, due to their very high capacity for capturing cooking fats. Grease particles, which are heavier than air, hit the filter profiles and settle on their inner surfaces. In addition, their design does not allow grease droplets to break off and fall onto the hob.
Labyrinth filters: Technical drawing of labyrinth filter operation